Welcome to Island 10 Fishing Retreat!
Active Seclusion, Great Fishing, the Beautiful Outdoors
Your paradise awaits!
Lady Evelyn Lake is one of the best Walleye lakes in Northern Ontario.
Island 10: Our Lodge
When you're not on the water or in your cabins, we'll take care of you here.
Gorgeous from Sunrise to Sunset
There's nothing like Lady Evelyn Lake, and nowhere better to enjoy it than Island 10.
Welcome to "Active Seclusion" at Island 10 Fishing Lodge. We're on Lady Evelyn Lake, one of the best lakes in Northern Ontario to catch Walleye, Great Northern Pike, Smallmouth Bass and more! There's no road access to Lady Evelyn Lake, so there are very few people on the water. Despite our remoteness, you'll find our service and amenities top-notch, all at prices comparable to lodges on more accessible lakes.
Our All Inclusive Package (American Plan) includes everything for a real Northern Ontario fishing holiday!
Click below for information on: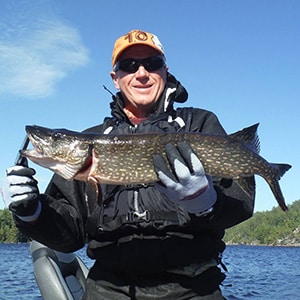 Fish & Fishing
Lady Evelyn Lake is a known hotspot in Northern Ontario for Pike, Walleye and Smallmouth Bass fishing. We make the experience even better with shore lunches and fish fries! Learn More >>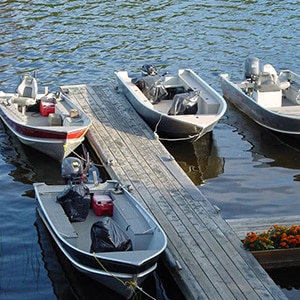 Boats & More
Fully-equipped, well maintained boats with pedestal seating for your fishing comfort. Electric start motors, electronic fish finders, flat floors. All you need is your tackle! Learn More >>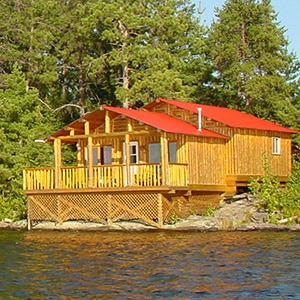 Accommodations
You'll wonder if you're really at a remote fishing lodge. Our solid log cabins all feature comfortable mattresses with fresh sheets, 3 pc bathrooms and other comforts. Learn More >>
The Fish Are Calling!
Land Your Next Trophy at Island 10!
Book Your Dream Fishing Vacation Today!