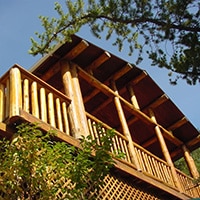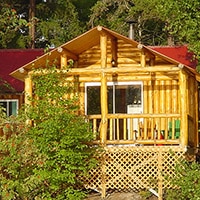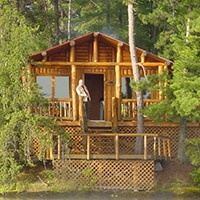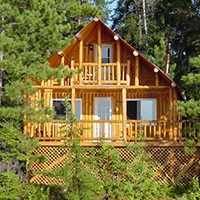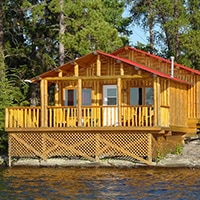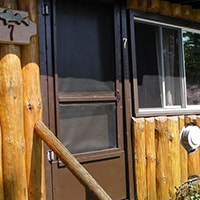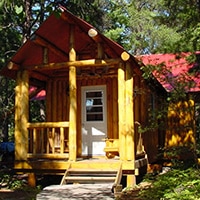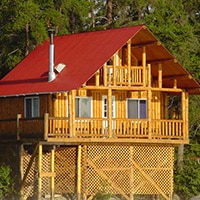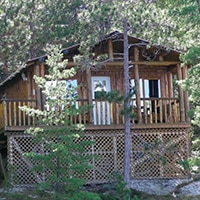 Cabin 7 is part of the main lodge building on the "ground floor", so to speak. It is conveniently located right by the dock area and those who stay in Cabin 7 are usually the first ones on the water in the morning.
We're the first to admit that Cabin 7 isn't a cabin, but it's a comfortable place to sleep, with the same amenities of our other cabins but in a much smaller space. If your idea of going to a fishing lodge is fishing, fishing and more fishing before you crash for the night in a comfy bed before hitting the water early the next morning, Cabin 7 might just be for you!
Click on the pictures below to see more of Cabin 7.
As with all our cabins, Cabin 7 features the following amenities:
Hot & Cold Running Water
Modern, Indoor Bathrooms with Flush Toilets & Showers
Electricity – home-generated
Refrigerators
Wood Stoves and/or Propane Heaters

Battery-Powered LED Lamps

for after-hours
Comfortable Beds
Daily Housekeeping
Boardwalks between cabins & lodge
Time to Book Your Next Fishing Vacation!
Island 10 Cabin Map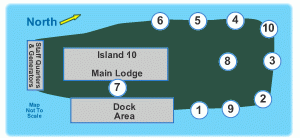 Book Your Dream Fishing Vacation Today!
Click the Images Below to View Our Cabins