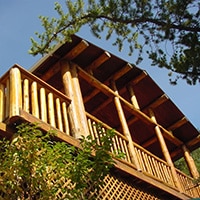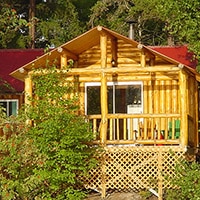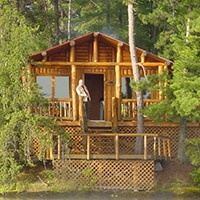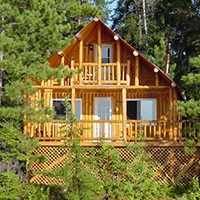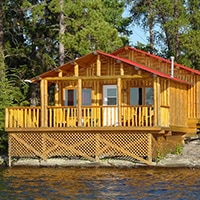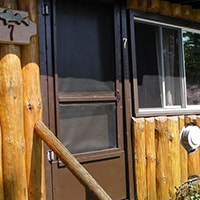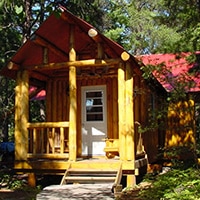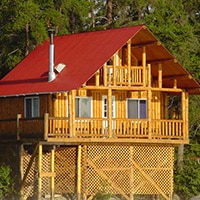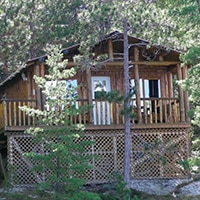 Cabin 9 is on the east side of the island and is one of our most picturesque cabins with great views and sleeping up to four. There is a bunk and single bed on the main floor and a single bed in the loft.
Some guests say our cabins are the best of any fishing lodge they've ever been to. Have a look at our photo gallery to see for yourself what the cabins are like. Please note – we took these during the fishing season. If you recognize your belongings, please let us know!
Click on the pictures below to see more of Cabin 9 or watch the video to the right! It's in HD, so watch it in full-screen mode for the best quality.
As with all our cabins, Cabin 9 features the following amenities:
Hot & Cold Running Water
Modern, Indoor Bathrooms with Flush Toilets & Showers
Electricity – home-generated
Refrigerators
Wood Stoves and/or Propane Heaters

Battery-Powered LED Lamps

for after-hours
Comfortable Beds
Daily Housekeeping
Boardwalks between cabins & lodge
Time to Book Your Next Fishing Vacation!
Island 10 Cabin Map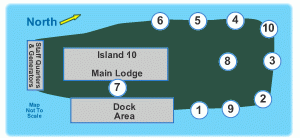 Book Your Dream Fishing Vacation Today!
Click the Images Below to View Our Cabins